Spicy Pinto & Baked Bean Wraps
Savour every taste of this simple, flavoursome treat with a salsa side.
06:31 20 May 2011
Description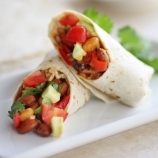 Savour every taste of this simple, flavoursome treat with a salsa side.
25 minutes to prepare and cook. Serves 4.
See "u.can cook" for more recipes devised with James Martin
Ingredients
410g can pinto beans, drained
415g can baked beans
1 Romano pepper, chopped
1 red onion, finely diced
20g fresh coriander
2 cloves garlic, crushed
2 tsp cumin seeds
1 tsp chilli powder or 1 small red chilli, finely chopped
1 Tbsp oil
8 Tortilla wraps
Sour cream
For the salsa:
1 avocado
Juice of 1 lime
150g tomatoes, roughly diced
Method
1. Heat oil in a wok, or deep sided frying pan. Fry onion until soft, add the garlic and fry for 1 minute.
2. Add cumin, fry for 1 minute, add the chilli powder, chopped coriander stalks, add the pepper and fry together for 1 minute.
3. Add the pinto and baked beans; simmer gently for 5-10 minutes until the beans are combined.
4. To make the salsa, peel and destone the avocado, chop into chunks and place in a small bowl, squeeze over the lime juice to prevent browning. Add tomatoes and chopped coriander leaves and stir ingredients together.
5. Serve with wraps and sour cream.
Hints and Tips: If you don't have cumin and chilli powder, use 1 tsp of your favourite curry powder.
Freezing: If you any pinto mixture left over it feezes very well and can be reheated in a microwave. Wraps will freeze successfully for a short period, but the pinto filling tastes just as good on toast - try serving as a tasty snack.
Servings
4
Nutrition Information
Calories: 313
Protein: 16.2g
Carbs: 37.1g
Sugars: 7.9g
Fat: 12.0g
Sat Fat: 2.1g
Fibre: 13.6g
Sodium: 0.4g
This recipe and image is copyrighted to Canned Food UK.