it's an internet thing! est 1999
How to Collect Better Customer Feedback (and Why You Should)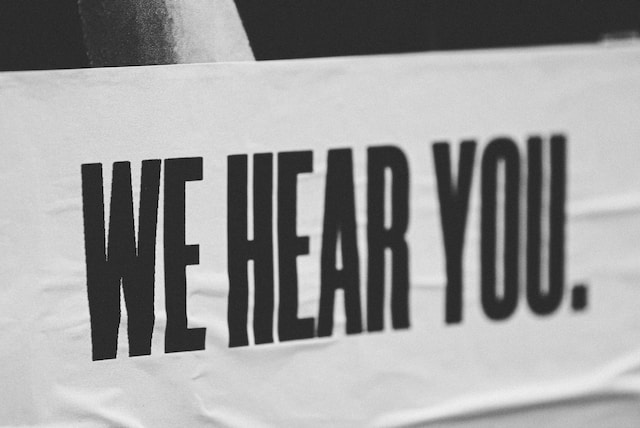 X Tips for Getting Even Better Customer Feedback.
19:40 21 November 2023
Customer feedback is a path for improvement across all your customer facing departments. You can improve sales, marketing, customer service, and even product development by properly considering the feedback given to you by your best customers.
With better data, you can make better decisions – so how do you collect that data?
The Importance of Customer Feedback
Let's start by analyzingjust how valuable good customer feedback can be.
Collecting this information can help you understand:
Overall customer attitudes. Generally, collecting customer feedback can help you gauge overall customer attitudes. How do they feel about your business? How do they feel about their lives? What would inspire them to make future purchases? What would hold them back?
Customer wants and needs. You'll also be able to get more specific feelers out for customer wants and needs. Are there any features that your current products lack, or any products that you don't offer that customers wish you would?
Customer complaints and concerns. Do your customers have any specific complaints or concerns about your products or how you do business? For example, are they consistently dissatisfied with your shipping times? Do they feel you have issues with quality control?
Customer ideas and inspirations. Some forms of customer feedback can also give you ideas and inspiration for new developments. Directly or indirectly, they may give you the information you need to improve your business in a fundamental way.
The first caveat, of course, is that your feedback data needs to be accurate and reliable. If you aren't working with a large enough sample size, or if your customers aren't being sincere with their contributions, the entire operation is jeopardized.
The second caveat is that you need to take action on this feedback. Otherwise, this is little more than an exercise in satisfying your curiosity.
But since our focus today is on collecting customer feedback data, we're going to turn our attention to collecting more accurate, more reliable data in a more efficient way.
How to Collect Better Customer Feedback
These are some of the best strategies for collecting better customer feedback:
Use both primary and secondary sources. When learning more about your customers, it's important to look at both primary and secondary sources. For example, theU.S. Census Bureau collects data on various demographics, which then becomes publicly available. Customers may freely tell you when they're satisfied or dissatisfied with your services, but you'll need to dig a little deeper if you want to learn more about why those sentiments exist.
Conduct surveys. Surveys are arguably your best tool for collecting customer feedback, since it opens a direct line from your customers to your business. Consider conducting surveys on a regular basis, so you can compare past and present metrics and get a better idea of how customer sentiments are developing over time.
Use focus groups. In some applications, it's also a good idea to host focus groups. Focus groups are more intensive, and they have fewer participants, but they can give you much richer qualitative data about how your customers see your business and use your products. This is especially important if you're planning on launching a new product or service line.
Prioritize bigger sample sizes.Sample size plays an important role in statistics. Generally, the bigger your sample size is, and the better representative it is of your target audience, the more reliable your data are going to be. Aim to get the largest feasible group of participants you can.
Keep it short and sweet. When asking customers for their feedback, keep surveys and questionnaires short and sweet. Most people don't have much free time, and they don't want to spend it filling out a 2-hour long survey. Increasingly, businesses are conducting surveys that last five minutes or less – and ones that only have two or three questions.
Monitor passively. You can also monitor customer feedback passively by paying attention to brand mentions on social media and other similar metrics. How do people talk about your brand?
Review both quantitative and qualitative data. Quantitative data is numerical and easily calculable, but qualitative data is more nuanced and subjective. If you want a clearer picture of how your customers perceive your brand, it's important to gather data in both realms.
Don't ignore outliers. It's easy to neglect outliers. After all, effectively forming conclusions about data requires you to make generalizations and spot trends. However, outliers can also provide you with valuable insights about the extremes in your cohorts.
Once you master the art of collecting customer feedback, you'll need to turn your attention to effectively analyzing the data and implementing solutions based on the data. Almost any area of your business, from product development to customer service, can be improved if you have the right collection of data to guide you.